How to INSTALL a Garbage Disposal: Waste King Model L-111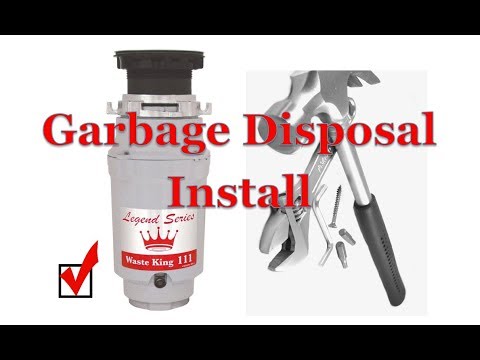 Here I show you step by step how to install a Waste King Garbage Disposal unit model L-111. My previous unit was an old Emerson disposal. #WasteKing
PSsst, I forgot to demo knocking out the dishwasher drain plug in the disposal. The little hole I connected the hose to. I got this as a used amazon deal and it was already knocked out. you can just use a screw driver and mallet to pop it out.
Also you do not need plumbers putty. In the instructions you could just use the rubber gasket instead but I prefer this method in the video.
If you feel like this video helped you, consider buying me a cup of coffee?
https://www.buymeacoffee.com/Hindsight101
Waste King L111
https://amzn.to/2K1oYgJ
Gear used for videos:
https://kit.co/clintonjd
Subscribe link:
https://www.youtube.com/channel/UCO4TWK699kxWJ4wdQxaqxow?sub_confirmation=1
Channel description:
Ever say to yourself "I wish I would have known that earlier". Well my site tackles that question, from experiences I've gained in everyday life. Things such as buying a TV, fashion for the workplace, leasing a car and much more. This is an open forum where you can ask questions and hopefully learn from my experiences and from my closest colleagues.
There will be new videos twice a month, at the beginning and middle of the month.
I may earn a small commission for my endorsement, recommendation, testimonial, and/or link to any products or services from this website. Your purchase helps support content made for this channel.